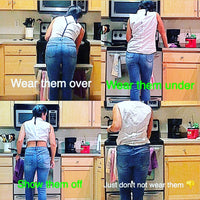 Welcome to the Sispenderhood
Sispenders are a one of a kind women's suspenders that keep your pants in place and prevent gaping, sagging, and muffin topping. They lift your booty, smooth your waistline and are a great no-squeeze, compression free alternative to shapewear and belts. They are available for pants with belt loops or with clips for all other pant styles in both y-back and x-back styles. All styles are one size fits all and fully adjustable. Wear them with any style bottoms including jeans, slacks, yoga pants, leggings, etc. Wear them to the gym, to work, or play. Whatever you are doing, Sispenders have got your back!
CUSTOMER REVIEWS
What real customers are saying about Sispenders.